AERS Fund Named in Honor of Donald L. Lewis
Advocates for the Aging of Frederick County (AAFC) has received a major charitable gift from the estate of the late Donald L. Lewis, former county commissioner and mayor of Thurmont. The gift establishes an endowment for Advocates at the Community Foundation of Frederick County.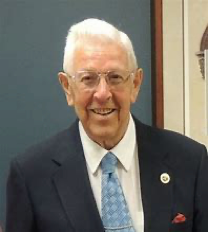 Mr. Lewis, a WWII veteran who was in the first wave of soldiers ashore in the D-Day invasion of Normandy and a Purple Heart recipient, passed away in 2018 at the age of 99. A well-known businessman in Thurmont who served as Thurmont's mayor from 1964 to 1970, he was then elected to two terms as a Frederick County commissioner. He and his wife Freda were strong supporters of local charities, service clubs and conservancy organizations during their lifetimes. After Mrs. Lewis's death, Don Lewis honored her memory with a gift naming the physical and occupational therapy wing of Frederick County's new Citizens Care & Rehabilitation Center. He also created an endowment fund at the Community Foundation to support continuing education for Citizens' staff members.
The income earned on the endowment funded through the Lewis gift to Advocates will help support the organization's overall activities on behalf of Frederick County's poorest and frailest seniors. In recognition of Mr. Lewis's investment in the care and support of vulnerable seniors, AAFC has named one of its targeted programs in his honor, establishing The Donald L. Lewis Fund for the Frederick County AERS Program. Created in 2017, this fund supports the needs of low-income elderly clients of the county's Adult Evaluation and Referral Services (AERS) program at the Frederick County Health Department that cannot be met through regular sources, and that are deemed to improve a client's quality of life/and or health and well-being. Over the last two years, the fund has assisted with the purchase of a variety of services and supports, including a prosthetic limb, an electric wheelchair, safety alert systems and smaller needs, such as an alarm clock, shoes, a vacuum and other items enabling seniors to age in place. Charitable gifts to the Lewis Fund provide this support.