Safety First!
Frederick County Assistive Devices Project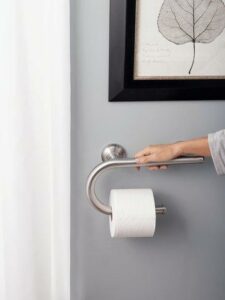 Helping low-income seniors and disabled adults stay on their feet, healthy & secure in their homes.

Staying Active Means Not Falling!
Our goal is to keep you on your feet. Each year, more than 3 million seniors are treated in emergency rooms for injuries from falls. Falls are the leading cause of broken hips and traumatic brain injuries.
Let's Equip Your Residence with the Tools You Need to Stay Safe
Advocates for the Aging of Frederick County has received grant funding from Frederick County Government and federal ARPA funds to help low income seniors install grab bars and other devices. There is NO cost to you or your landlord if you rent your home.
How We Work
Step 1: Referral
Referral Participants might be referred to us by a medical provider, EMS, a family member or friend – or you can call us!
Step 2: Consent
Consent We will explain the process and have you and your landlord (if you rent) sign consent forms that allow us to come into your home and install appropriate grab bars and other devices.
Step 3: Step 3: Getting the right equipment
Getting the right equipment Our project coordinator and an occupational therapist (OT) will visit with you at home, talk about your needs and concerns. The OT will determine which devices suit your needs.
Step 4: Follow-Up
After installation, the OT will return to your home and make sure you are using your new tools correctly and answer any questions you may have. Our project coordinator will also follow-up with you to be sure you are satisfied with your new devices and installation.
Staying In Your Home
Grab bars, ramps, bathing chairs, and other devices can help you remain in your home safely and securely. It's an investment in healthy aging that's good for the whole community.
Installing Grab Bars Enhances Your Property
Properly installed grab bars enhance any home or apartment, making them an asset for owners and landlords. We want to work with landlords to help keep seniors in their homes.
Contact Us
Assistive Devices Project Coordinator
Sherry Fulton
240-741-9853
grabbarsproject@gmail.com
Visit us on the Web:
Advocates for the Aging of Frederick County
www.advocatesforaging.org